Fostering a more Inclusive, Accepting
and Affirming ASU experience
Arizona State University, with regard to the communities whom it serves, maintains a fundamental responsibility for their economic, social, cultural and overall health. SafeZONE is an in-depth set of workshops designed to increase the overall campus and online community's understanding and awareness of issues faced by Two-Spirit, Lesbian, Gay, Bisexual, Transgender, Queer/Questioning, Intersex, Asexual/Aromantic students amongst other sexualities and genders.
When speaking about Arizona State University, there are more gender and sexual identities than one might personally recognize. We are not expecting faculty or staff to be experts in human sexuality or the construct of gender. What we are expecting of staff is to be kind, compassionate human-beings who want to bring student success to the forefront of not only their practice but their personality. Just because you may not identify with a specific identity doesn't mean you can't advocate for and ally with those that do.
With this training, we hope to confront and disrupt homophobia and transphobia by getting access to accurate information, clarifying common misconceptions and providing a space for healthy open conversation. SafeZONE is a commitment that ASU Faculty and Staff make to provide an exceptional layer of support to their surrounding community and show pride in doing so.
Contact Us
For more information about SafeZONE, please contact Assistant Director of Cultural Connections Ebony Anderson, ebony.anderson@asu.edu or Senior Coordinator of Cultural Connections Emory Ibarra, emory.ibarra.@asu.edu.
SafeZONE Workshops at Arizona State University
"SafeZONE at Arizona State University is a space of intention designed to increase the overall campus community's understanding and awareness of issues faced by two-spirited, lesbian, gay, bisexual, transgender, queer/questioning, intersex, asexual/allied and other marginalized students."
- Cultural Connections
Arizona State University
In Person
Tempe
Nov. 3, 2022 | 10 a.m. - 12 p.m.
Poly
December 1, 2022 | 10 a.m. - 12 p.m.
Downtown
January 25, 2023 | 10 a.m. - 12 p.m. (pending)
West
Feb. 8, 2023 | 10 a.m. - 12 p.m.
Online - November 2022
This introductory presentation is a self-paced module to help get acquainted with terms and foundational understanding about the 2SLGBTQIA+ community. Will be published in November 2022.
What it means to be a SafeZONE Ally at ASU
ASU Faculty and Staff who make a commitment to display the SafeZONE Ally designation agree to acknowledge the presence and contributions of those who identify as 2SLGBTQIA+ in the institution and larger Arizona community. SafeZONE Allies believe that students' social experiences are enriched by the diversity that they live within and what they are exposed to on a regular basis. Part of this commitment is not only the willingness but the training to provide assistance to individuals looking to access support and information both on and off campus. Confidentiality, inclusive language use and the mutual respecting of pronouns are cornerstones of our practice. Using titles, names or even asking a person's pronouns can go a long way in promoting a more inclusive, accepting and affirming ASU Experience. Within these expectations, SafeZONE Allies promote the breaking down of stereotypes and teach their communities to acknowledge the 2SLGBTQIA+ community and not assume heterosexuality.
Finally, SafeZONE Allies agree to be positive, supportive and affirming to students, staff and faculty regarding LGBTQIA+ people and issues.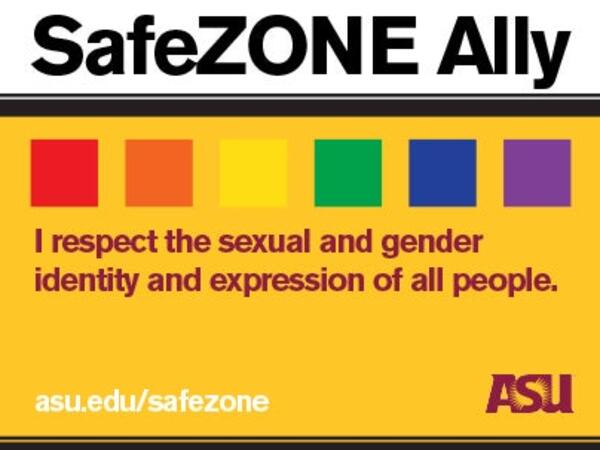 Displaying a SafeZONE Ally placard identifies individuals who completed the training. It does not mean that one is lesbian, gay, bisexual, transgender, queer/questioning, intersex, or asexual. It does mean one is supportive of the needs of others and willing to learn about issues related to sexual orientation, gender identity and gender expression.
SafeZONE provides resources for our LGBTQIA+ Sun Devils and ASU's community of allies. OUT@ASU highlights the portfolio of services and resources designed to support our thriving community. SafeZONE vocabulary serves as a useful tool in understanding the evolving set of ideas and terms around gender and sexual identity.
ASU faculty, staff and students interested in becoming SafeZONE Workshop facilitators may register for Train the Trainer Facilitator training after successfully completing a SafeZONE Workshop. New, enthusiastic allies are encouraged to consider this option. Already established Facilitators are expected to attend periodic refresher courses. All facilitators are expected to co-facilitate at least one workshop per semester.