Creating a more inclusive and accepting ASU
Arizona State University and the surrounding community are proud of their culturally diverse population and support cultural diversity in every way possible. SafeZONE is a two-hour, in-depth workshop designed to increase the overall campus community's understanding and awareness of issues faced by lesbian, gay, bisexual, transgender, queer/questioning, intersex, asexual/allied and other marginalized students.
SafeZONE Workshops
The health of the Sun Devil community is a top priority at ASU. In alignment with the CDC guidelines and ASU's current policy regarding events, all SafeZONE workshops are canceled for the remainder of the semester. To be contacted when new SafeZONE workshops dates are identified, please complete the SafeZONE Workshop Interest Form.
For information and the latest updates on the Novel Coronavirus go to ASU's COVID-19 announcements page. Please contact SafeZone@asu.edu for questions and additional resources. CDC Recommendations about public events and general health precautions to minimize the spread of COVID-19.
What it means to be a SafeZONE ally
Individuals who agree to display the SafeZONE Ally placard agree to acknowledge the presence and contributions of those who identify as LGBTQIA+. SafeZONE Allies also believe that campuses and communities are enriched by the diversity of lesbian, gay, bisexual, transgender, queer/questioning, intersex, and asexual individuals and are willing to assist individuals in accessing support and information resources on all campus locations and in the community. SafeZONE Allies also agree to maintain confidentiality, use inclusive language, avoid stereotyping, and not assume heterosexuality. Finally, SafeZONE Allies agree to be positive, supportive and affirming to students, staff and faculty regarding LGBTQIA+ people and issues.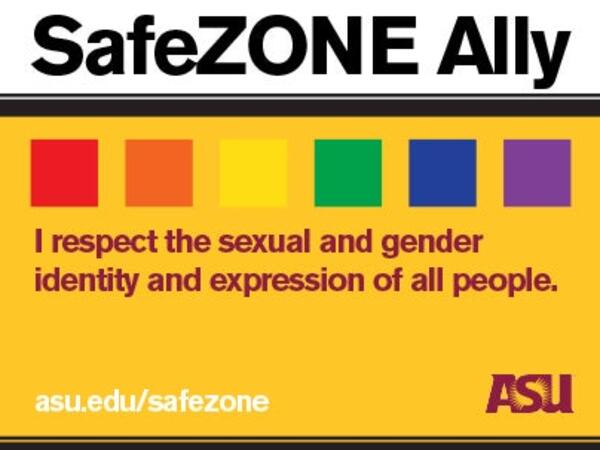 Displaying a SafeZONE Ally placard identifies individuals who completed the training. It does not mean that one is lesbian, gay, bisexual, transgender, queer/questioning, intersex, or asexual. It does mean one is supportive of the needs of others and willing to learn about issues related to sexual orientation, gender identity and gender expression.
SafeZONE provides resources for our LGBTQIA+ Sun Devils and ASU's community of allies. OUT@ASU highlights the portfolio of services and resources designed to support our thriving community. SafeZONE vocabulary serves as a useful tool in understanding the evolving set of ideas and terms around gender and sexual identity.
ASU faculty, staff and students interested in becoming SafeZONE Workshop facilitators may register for Train the Trainer Facilitator training after successfully completing a SafeZONE Workshop. New, enthusiastic allies are encouraged to consider this option. Already established Facilitators are expected to attend periodic refresher courses. All facilitators are expected to co-facilitate at least one workshop per semester.