The Associated Students of ASU, ASU's Official Student Government, exists to serve ASU's students across all campuses and undergraduate and graduate programs!
We provide a number of student-run services and advocate for student initiatives including student wellness, campus safety, community outreach, civic engagement and ASU pride and traditions. ASASU also facilitates the distribution of funding from the student activity fee to clubs and organizations across ASU. ASASU voices students' concerns and interests at the University, local, state and national levels and provides students with experience and training through active political participation.
ASU Student Governments
ASASU is made up of the five student governments of Arizona State University: the Undergraduate Student Governments at the Downtown Phoenix, Polytechnic, Tempe and West campuses, and the Graduate and Professional Student Association.
ASU students have the power to create dramatic, systematic change in our communities through who we elect to represent us. Make your voice heard.
Learn more and vote today!
Vote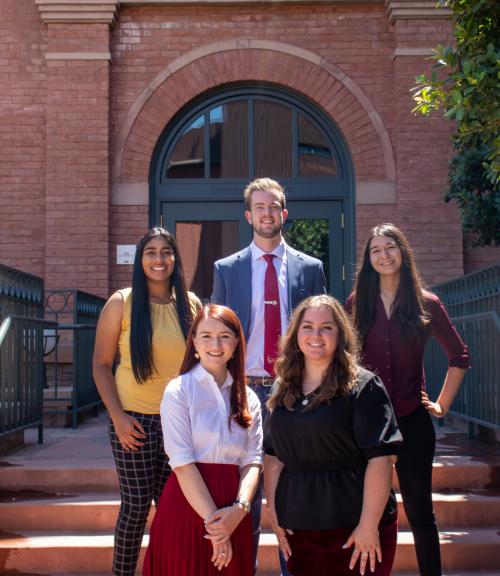 ASASU Council of Presidents (COP)
Top row from right to left: Renuka Vemuri, John Hopkins, Cecilia Alcantar
Bottom row from right to left: Nicole K. Mayberry, Elizabeth Chilton
COP is comprised of the five elected Presidents from each of the student government organizations.
Our mission is to put the students as the top priority in providing service to the university by delivering leadership that enhances the Sun Devil way of life, amplifies the voices of students especially the traditionally underrepresented, and embodies zealous advocacy for the unique interests of students.
Every year, the COP creates a list of priorities that enumerates a comprehensive, but not exhaustive, list of advocacy items that embodies the vision on how it wants to furnish its mission and pledge of service to the students of Arizona State University. The priorities for this academic year are centered around five pillars: Transparency; Basic Needs Investment and Education; Diversity, Equity, and Inclusion; Student Health and Wellness; and Spirit, Pride and Tradition. While not mutually exclusive, these themes provide us guidance to the direction we believe that would enhance and improve the Sun Devil way of life.
Whether you would like to participate in a few hours of volunteer work or gain real world experience, ASASU is a great way to develop skills in advocacy and student leadership while building friendships along the way!
If you have any ideas, concerns or suggestions that you would like to share with the Associated Students of Arizona State University or if you would like to become involved, check out our websites or come see us at our respective campuses! Go Devils!