ASU Denim Day
ASU Denim Day
April 26, 2023
Denim Day is an international event to raise awareness about sexual violence. The content to follow is sensitive in nature and may cause uncomfortable feelings or be triggering. Please visit sexualviolenceprevention.asu.edu should you wish to connect with University or community resources.
Italy, 1990s
An 18-year old girl is picked up by her married 45-year old driving instructor for her very first lesson. He takes her to an isolated road, pulls her out of the car, wrestles her out of one leg of her jeans and forcefully rapes her. Threatened with death if she tells anyone, he makes her drive the car home. Later that night she tells her parents, and they help and support her to press charges. The perpetrator gets arrested and is prosecuted. He is convicted of rape and sentenced to jail.
He appeals the sentence. The case makes it all the way to the Italian Supreme Court. Within a matter of days, the case against the driving instructor is overturned, dismissed, and the perpetrator released. In a statement by the Chief Judge, he argued, "because the victim wore very, very tight jeans, she had to help him remove them, and by removing the jeans it was no longer rape but consensual sex."
Enraged by the verdict, within a matter of hours the women in the Italian Parliament launched into immediate action and protested by wearing jeans to work. Wearing jeans has been a statement of protest every year since. For the past 16 years, Peace Over Violence has run the Denim Day in L.A. and the USA campaign on a Wednesday in April in honor of Sexual Violence Awareness Month.
For more information visit, denimdayinfo.org/about.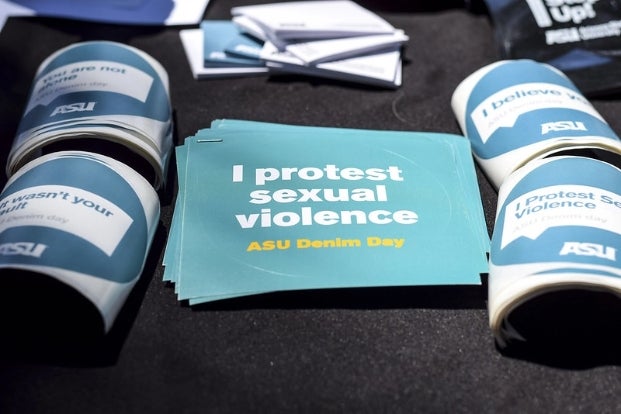 ASU Denim Day history
2004 – Currently
Beginning in April 2004 during Sexual Assault Awareness Month, ASU students, staff and faculty have worn jeans in protest against sexual violence. In April 2011, large 4-inch gold stickers announcing "I'm wearing jeans today to protest sexual violence" were distributed to 3,000 participants. Denim Day at ASU continued to grow.
In 2014 the color of the sticker was changed to teal, the color designated to sexual violence prevention. Today the teal sticker states "I Protest Sexual Violence" to allow those who are not wearing jeans to join the protest. ASU Denim Day aims to raise awareness about sexual violence, consent and healthy relationships.
ASU 2023 Denim Day activities and events
Get involved in Denim Day virtually and in-person
Take part in the annual Denim Day tradition by engaging in our "Denim Day Countdown" taking place April 20 - April 26 during Sexual Assault Awareness Month. The best way to be involved is to follow the Sexual and Relationship Violence Program (SRVP) social media accounts on Facebook, Twitter and Instagram. Every day there will be ways to engage with educational content, answer polls, pose questions, raise awareness and more. Preventing sexual and relationship violence means ensuring all our environments, including our virtual ones, are welcoming to everyone, including victims and survivors.
Have any online meetings or class sessions coming up? Consider downloading our Denim Day Zoom background
Request a Denim Day sticker by April 20 or pick one up at an upcoming tabling event. Tabling event locations will be shared on our Instagram.
If you or your student organization would like to get more involved please reach out to srvp@asu.edu.
So, mark your calendars for April 26 and follow these five easy steps:
Download the Denim Day profile picture, Twitter and Facebook cover photos and update your social media accounts.
Post a photo of yourself along with your denim.
Use the hashtag #ASUDenimDay and tag @ASUSRVP
In your post, share with others how you are raising awareness online.
Tag 1 - 2 friends encouraging them to update their profile pictures and cover photos and to post their best denim day photo.