Art collection
MU Art
The Memorial Union (MU) is the centerpiece and the "showroom" of our university.  It is the heart of the campus, the living room, the hearthstone.  The facility itself serves as the galvanizing icon for the community and embodies the dreams and aspirations that an ASU education can provide.  The MU incorporates all aspects of ASU culture and celebrates the uniqueness of each individual while providing a forum for the community to come together, share in our differences, and unite together in the singular quest for truth, justice, and the pursuit of higher learning.
The Memorial Union permanent art collection consists of over 160 works of art (include link to artist/collection list) including, photographs, paintings, drawings, original prints, sculptural works, and posters. The collection is dispersed over the Memorial Union's meeting rooms and student lounges on the four levels of the building. There is a current emphasis on Hispanic and Native American artwork throughout the collection. The current permanent collection is composed of works produced by ASU Alumni, ASU faculty, and nationally renowned artists. Represented in the collection are works from Jack Breckenridge, Lew Davis, William Weege, Albert Rios, Barry M. Goldwater, R.C. Gorman and Merrill Mahaffey.
We encourage you to visit the artworks in our collection in person by visiting the Memorial Union, Tempe campus.
Title: Unit Forms
Artist: Christine Lee (2017)
Location: Lower Level North - Sparky's Den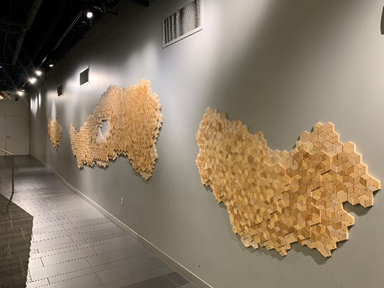 Title: Grand Canyon Point (1978)
Artist: Merrill Mahaffey
Location: 2nd Floor North hallway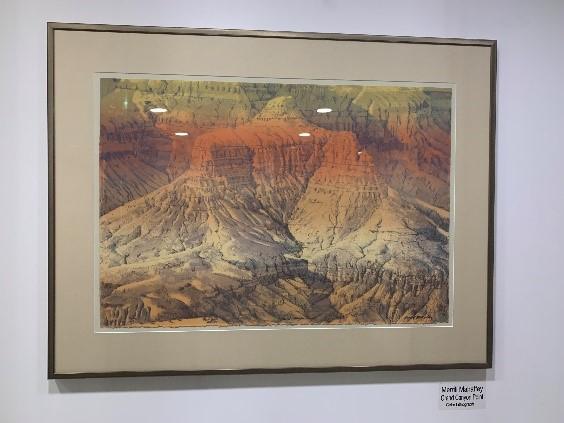 Art Collection Manager
Jeff Rensel
jrensel@asu.edu