Event Guidelines
ASU has released guidelines regarding ASU Community of Care protocols for in-person events and meetings in ASU venues. The guidelines are based on current public health recommendations, government policy, and Board and University policy. These guidelines are in effect until further notice.
Student Center @ the Post Office
The Student Center at the Post Office offers various spaces for student organizations and ASU colleges/departments to hold meetings, workshops, conferences and special events. Simply view the room specs below and the available set-ups and A/V capabilities to find the room that works best for your needs. Not sure where to start, or have a special request, contact us and we will do our best to accommodate your needs. 
Reserve your space today.
Civic Space Park (located on the south side of the Post Office) is managed by the City of Phoenix. For questions about reserving this space, contact Phoenix Parks and Recreation Management
Fall
Clubs start reservations July 1st
Departments start reservations August 1st
Spring
Clubs start reservations November 1st
Departments start reservations December 1st
Summer
Clubs start reservations March 1st
Departments start reservations April 1st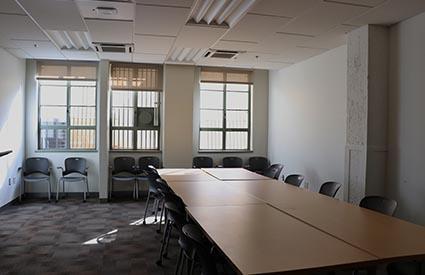 Arivica Meeting Room (Post L1-08)
Room Dimensions: 26' x 15'
Square Feet: 390
Maximum Capacity: 26
Available Set Ups: Boardroom
Available A/V: Phone Conferencing
Notes: Standard set up is one large table seating 10-15 chairs; Furniture can be rearranged.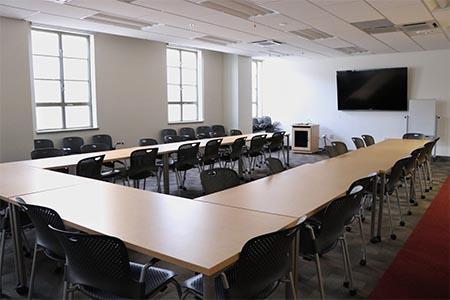 Black Canyon Conference Room (POST L1-12)
Room Dimensions: 26' x 15'
Square Feet: 715
Maximum Capacity: 40
Available Set Ups: U-Shape, Boardroom, Classroom
Available A/V: 1 Laptop Input (HDMI, VGA, MAC), Video Conferencing, Services, Phone Conferencing
Notes: Standard set up is boardroom style including 8 tables set in a large open U; Furniture can be rearranged and moved; Catering Allowed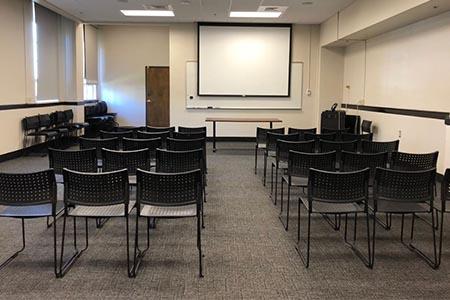 Grand Canyon Conference Room (POST 120)
Room Dimensions: 27' x 23'
Square Feet: 621
Maximum Capacity: 40
Available Set Ups: U-Shape, Boardroom, Classroom
Available A/V: 2 Laptop Inputs (HDMI, VGA, MAC), In-house Computer
Notes: Catering Allowed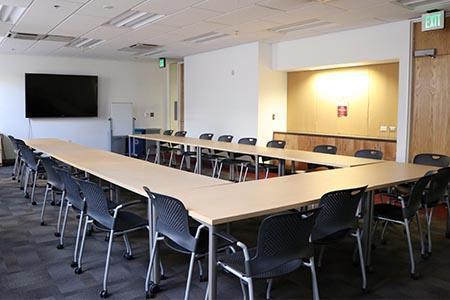 Patagonia Conference Room POST (L1-20)
Room Dimensions: 35' x 20'
Square Feet: 700
Maximum Capacity: 40
Available Set Ups: U-Shape, Boardroom, Classroom
Available A/V: 1 Laptop Input (HDMI, VGA, MAC), Video Conferencing, Services, Phone Conferencing
Notes: Standard set up is boardroom style including 8 tables set in a large open U; Furniture can be rearranged and moved; Catering Allowed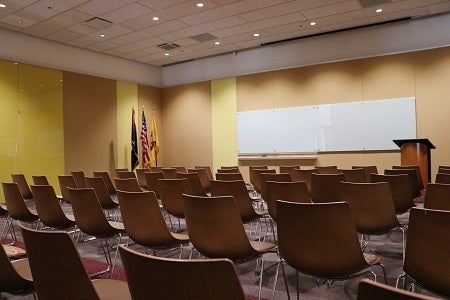 San Carlos Conference Room (POST 135)
Room Dimensions: 35' x 23'
Square Feet: 800
Maximum Capacity: 90
Available Set Ups: Theatre/Lecture, Banquet Rounds, U-Shape, Classroom, Hollow Square Boardroom
Available A/V: 2 Laptop Inputs (HDMI, VGA, MAC), In-house Computer, Microphone, Podium
Notes: Standard set up is theater style seating for 85 chairs; Banquet style round tables maximum is 8 tables with 7 chairs seating 56, or 8 high top tables (no chairs); Catering Allowed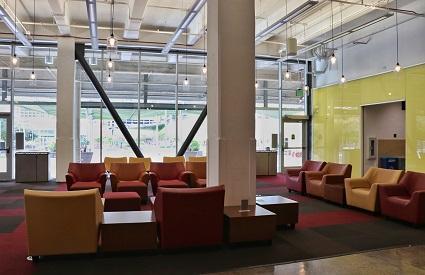 San Carlos Lobby
Square Feet: 2800
Available Set Ups: Exhibitor Tables
Available A/V: N/A
Notes: Catering Allowed