Welcome to Arizona State University!
We invite you to join us for the Spring 2022 Family Welcome on Wednesday, January 12 at 5:30 p.m. MST.
Here you will have the opportunity to learn what being part of the ASU Family is all about while connecting with fellow family members and ASU staff. As your student is settling into the new academic semester, we want you to also get involved in the ASU community in support of your student and to start building your own exciting Sun Devil experience.
In this interactive, virtual event, families will:
Receive a special welcome from current ASU Family members
Hear from ASU Family staff and campus leaders
Learn about family engagement opportunities
Share your Sun Devil spirit with your new ASU family
Connect with fellow ASU families in our Campus Coffee breakout sessions
We look forward to seeing you on the 12th, and in the years to come, as part of the ASU Family. Forks Up!
-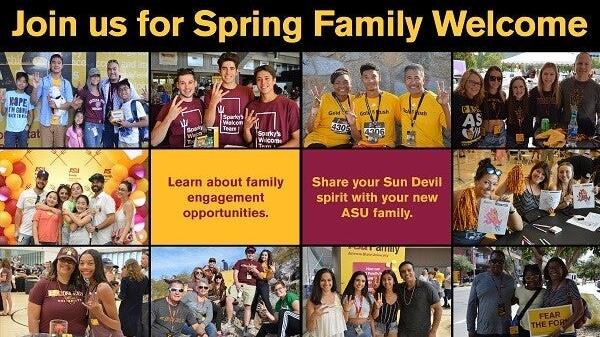 Hosting/Sponsoring organization/Unit
ASU Family
Teens (13-17) Adults Current students Alumni
Off campus Online
Zoom
Email for event inquiries
asufamily@asu.edu
Spring Family Welcome
Phone number for event inquiries