Sustainability practices at the MU
Zero Waste Stations | MU & Exterior Mall areas
Eat + Sort + Reduce Landfill Waste
The Memorial Union has several Zero Waste Stations to help reduce the amount of food waste ASU sends to area landfills.
Zero Waste Stations are located on Main Level and Lower Level in dining areas. 
Additionally, there are several Zero Waste Stations located around the exterior of the Memorial Union in our mall areas.  These stations combine compost, recycle and landfill receptacles into a one-stop food waste destination.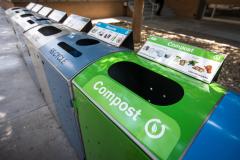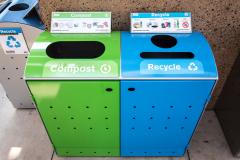 Follow ASU Zero Waste on Twitter @ZeroWasteASU #ASUZeroWasteStation and like them on Facebook: ZeroWasteASU.
Water Bottle Refill Stations
The Memorial Union and Student Pavilion have several water bottle refill stations located throughout the facilities. 
Zero Waste Events
Hosting a Zero Waste event minimizes landfill waste through aversion or diversion and demonstrates a commitment to ASU's Zero Waste goal.
The MU makes hosting a Zero Waste Event easy by incorporating recycling, composting, sustainable menu options and more into available planning options.
For more information about how to host a Zero Waste event please visit: Zero Waste Events at ASU
Green Office Program
The Memorial Union achieved Level Two certification in ASU's Green Office Program and continues to support sustainability practices.
The Memorial Union Recycles
The Memorial Union participates in ASU's Commingled Recycling Program. Blue recycling bins can be found throughout the facility.
"Green" features in the Memorial Union include: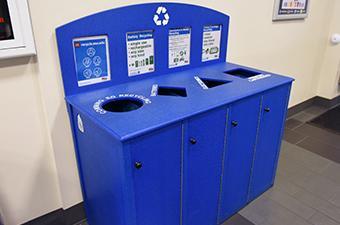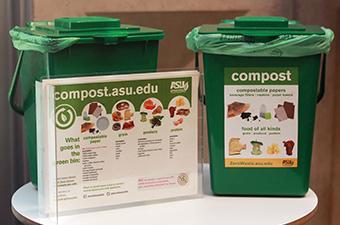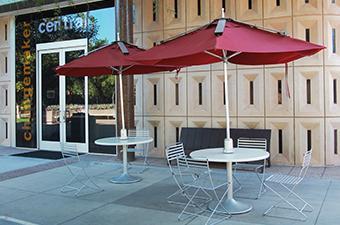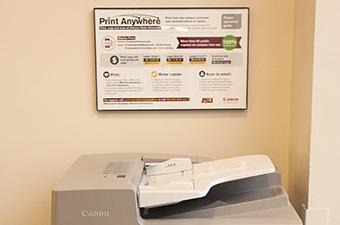 Participation in ASU's Commingled Recycling Program
Water Bottle Filling Stations
Paperless operations through use of iPads for event crews
LEED (Leadership in Energy and Environmental Design) Gold Certification
Lower level outdoor Biophilic design implementation
Back-of-house composting from Pitchforks
Changemaker Central solar umbrellas
"Print Anywhere 100% recycled paper" stations
E-waste recycling collection
Blue Bag participation for staff/offices
LED lighting and low-flow fixtures
Solar Parasol over MU North Stage for shading
Professional and student staff receive sustainability training
Sustainability at ASU
As a leader in sustainability, Arizona State University has unveiled a plan to guide students, faculty, staff, and partners in making the University carbon neutral by 2025, with our transportation goal set for 2035. To be sustainable, our actions must reflect what is important to us – qualities such as clean air, clean water, health, security and prosperity. At Arizona State University, we believe that the advancement of society is compatible with environmental stewardship. Recognizing that reaching our true potential as an institution is directly linked to realizing the potential of society at large, we imagine the possibilities for positive societal change and are making real investments in that future now.
Engrained Café
Engrained is a fast-casual, full-service restaurant designed to be an educational food experience surrounding sustainability with a focus on what we are making, the ingredients used, and how they are handled. Engrained Café features both vegan and vegetarian options. There is also a focus on healthier eating based on seasonal fresh fruits and vegetables and local foods when available. Engrained Café is located inside the Memorial Union on the Second Level.