Faculty and Staff: How you can support a student
ASU Counseling Services staff offer faculty and staff the opportunity to talk with one of our counselors regarding concerns they may have about an ASU student. Often faculty and staff are in a pivotal position to positively influence a student and encourage the student to seek help. As consultants, our role is to help you determine the best course of action for addressing your concern. We accomplish this by discussing your concerns and brainstorming with you ways in which you can help.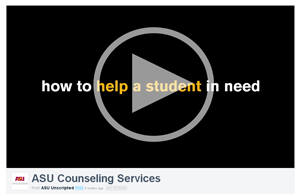 Some common situations in which we consult are:
Individuals exhibiting unusual behavior or presenting safety concerns in a classroom or residence hall
Professors expressing concern about the well-being of a student
Parents concerned about their student's academic functioning
Students concerned about the behaviors or habits of another student
Situations in which multiple students experience a traumatic event, such as the death of a student or a national or local event impacting students

ASU Counseling Services Staff can be helpful by providing the following information on how to:
Identify a student in distress
Talk to a student who seems to be depressed, anxious, and/or suicidal
Suggest to someone that they get professional assistance
Handle a disruptive or threatening student
Make an appointment for counseling services
What to look for:
Academic Indicators:
Negative change in performance
Continual seeking of special accommodations
Essays or creative work that indicates extremes of hopelessness, social isolation, rage or despair
Physical Indicators
Deterioration of physical appearance
Coming to class bleary-eyed, hung over or smelling of alcohol
Excessive fatigue
Visible changes in weight
Personal/Interpersonal Indicators
Tearfulness
Direct statements indicating distress, family problems or other difficulties
Unprovoked anger or hostility
A hunch or gut-level reaction that something is wrong
Safety/Risk Indicators
Written or verbal statement of finality or suicidal thoughts or thoughts of harming others
Giving away of prized possessions
History of suicidal thoughts or attempts
Self-injuries or self-destructive behaviors
Issues to consider when talking to a student in distress:
Avoid making promises of confidentiality, particularly if a student represents a safety risk to self or others. High-distress students need swift professional intervention, and assurances of absolute confidentiality may inadvertently hinder student cooperation. It is acceptable to stay "in role" as a faculty or staff member. You do not have to take on the role of counselor. You need only to watch and refer. If you do feel comfortable discussing a problem with a student, you may still want to consult with a counselor.
What you can do:
You can discuss your concerns directly and plainly with the student and listen for their response. Talking about a problem or labeling a crisis does not make it worse. It is the first step to resolving it. If you are referring a student to us, some students find it comforting to call from your office or have someone accompany them to our office. ASU Counseling Services provides crisis intervention for students who are experiencing a mental health crisis.
During normal working hours, please call any ASU Counseling Service location and request to speak to counselor on duty. ASU counselors are happy to consult with you about students of concern. Counselors can provide information about spotting a student in distress, talking to a student who seems depressed, anxious or suicidal, handling a disruptive or threatening student, and making an appointment for counseling services.
If you need assistance outside of business hours, please call EMPACT's 24-Hour ASU-dedicated Crisis Line: 480-921-1006.