Student-athlete life: balancing sports and academics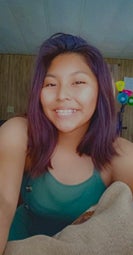 Jerrlynn, a highly motivated junior, athlete and student here at the pre-college readiness program, ASU TRIO Upward Bound at Tempe had the time for a quick interview with me.
Jerrlynn has been with TRIO Upward Bound since her freshman year, and continues the program excelling in the work provided by the program.
Outside of TRIO Upward Bound, Jerrlynn is a junior varsity basketball player at her high school and a high performing student. I was interested in how Jerrlynn manages all three things at once, so I had the privilege to ask her a few questions.
What are the academic requirements to remain a student athlete at your high school?
The academic requirements to remain a student athlete are to keep our grade higher than a C, and also show up to school every day and on time.
What do you like about playing basketball? Is it hard balancing your academic life with sports life?
What I like about playing basketball is being able to let all my negative energy out and putting it into basketball. It used to be hard trying to balance my academic life with basketball until I got used to using my time arrangement and my agenda.
How much time per week is required for practice? Does it give you enough time to do your schoolwork?
I spend most of my time after school practicing from 3:30 - 5:00 p.m. and they give us from 5:15 - 6:15 p.m. to do study hall.
Has being in TRIO Upward Bound affected or contributed to your academic success?
Upward Bound has made a life change in my life because right now I would have been struggling to do my homework and struggling to make time for school and basketball. Most of all Upward Bound is a great TRIO program for others to join and it helps me stay on track.
Being involved in sports is possible, as is academic success during the season. At the end of the interview, I thanked Jerrlynn for her helpful tips on time management and wished her good luck on her next basketball game.

-by Cindy Cervantes, Forensic science, ASU undergraduate student, TRIO Upward Bound at Tempe academic tutor and mentor, TRIO Upward Bound at Tempe alumnus.