Open Hours at the Piper Writers House
The Piper Writers House is open! Drop by for our new open hours every first and third Friday* from 1 p.m. to 5 p.m. to learn more about our historic building, meet creative writing community or just hang out and read a book. We're located on the Tempe Campus of Arizona State University at 450 E Tyler Mall, Tempe, AZ 85281.
Volunteers will be on hand to answer your questions about our programs and the history of our space. Come on in!
Directions, parking and other information about getting to the House is available on our website at https://www.asu.edu/map/interactive/?campus=tempe
To find talks, readings, classes, workshops and other events, you can view our calendar at http://piper.asu.edu/calendar
-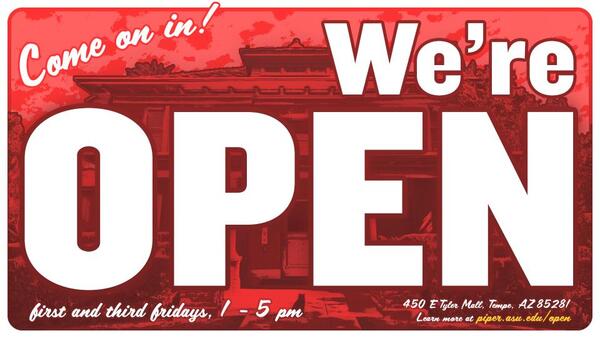 Hosting/Sponsoring organization/Unit
Arizona State University
Children (under 6) Children (7-12) Teens (13-17) Adults Current students Alumni
Tempe
Virginia G. Piper Center for Creative Writing
Email for event inquiries
jake.friedman@asu.edu
450 E Tyler Mall
Tempe, AZ 85281
United States
Jake Friedman
Phone number for event inquiries
4807271787