Lace up your walking or running shoes and bring the family to ASU Polytechnic campus on Monday, Nov. 1, 2021 for the inaugural Day of the Dead Walk with Ancestors event.
Ground yourself to the natural environment while honoring the lives of loved ones through a Day of the Dead celebration. The event starts with a one-mile walk/run around the beautiful ASU Polytechnic campus, where a passport map will guide participants to some of the most popular natural environment spots, including the Polytechnic campus Garden Commons, the Date Palm grove and the water tower. Get your passport stamped at various spots along the way and turn it in for a treat at the end!
Participants are encouraged to bring a picture of a loved one (an ancestor) to honor them — and all of the ancestors of this land — during the walk, and to then place the photo at the Day of the Dead altar located in the Polytechnic campus Student Union.
Following the walk, we will gather in the Student Union to enjoy some food, aguas frescas, music from a Mariachi group and a sugar-skull painting party. Students from Professor Truman Peyote's Transborder Chicana/o Literature course will be on-hand to talk about their altars dedicated to the late Frida Kahlo, Yolanda López and Gloria Anzaldúa and what it means to celebrate life during Day of the Dead. In Cooley Ballroom, Agape will be hosting the AMMPARO Migrant Exhibition, an interactive experience to educate people on the factors driving migration in the United States.
-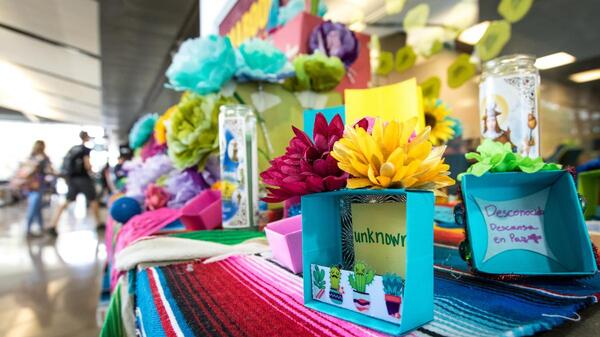 Hosting/Sponsoring organization/Unit
College of Integrative Sciences and Arts
Children (under 6) Children (7-12) Teens (13-17) Adults Current students
Polytechnic
Student Union, Cooley Ballroom
Email for event inquiries
Iliana.Garcia.1@asu.edu
5999 S. Backus Mall
Mesa, AZ 85212
United States
Iliana Garcia
Phone number for event inquiries
480-727-3100