Access ASU
Building the pipeline of Arizona youth to Arizona State University.
ASU is committed to serving schools, students and families of Arizona by helping prepare students for the university.
At Arizona State University, we break down boundaries of traditional learning. We collaborate with students, parents, families, K-12 schools and the local community to create broader accessibility and capacity for ASU readiness.
Through our school district and community partnerships and our outreach programs, the Access ASU team prepares Arizona students for the university. We collaborate strategically with school administrators and educators to increase the number of students eligible for success at ASU.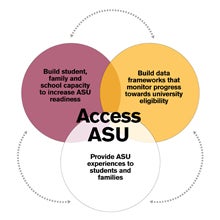 Building data frameworks to monitor students' progress towards university eligibility is one of the critical components. We nurture future Sun Devils by engaging with schools, families and students.
In addition to our school district and community partnerships, we offer Access ASU outreach programs like Future Sun Devil Families, Hispanic Mother-Daughter Program, the American Dream Academy and Barrett Summer Scholars. These are a few of the programs Access ASU has implemented to engage with students and their families.
We believe all Arizona students can achieve a four-year university degree. We assume responsibility for the economic, social and cultural vitality of the community that we serve. We are committed to helping students reach their educational goals and achieve success.